Tokyo University of Foreign Studies (TUFS) Lecture (2018)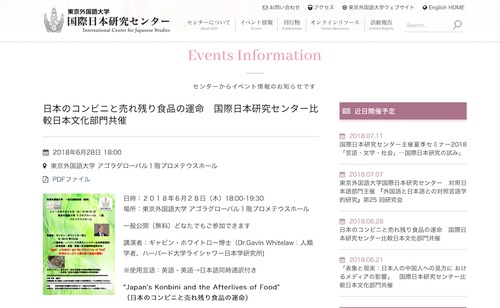 "Japan's Konbini and the Afterlives of Food"
日本のコンビニと売れ残り食品の運命
Waste and expired food products—often referred to as "loss" (rosu)—plays an under-acknowledged role in the functioning of Japanese convenience stores. My talk focuses on the cumulative costs of post-commodity consumptive practices for those whose lives are intimately intertwined with the day-to-day maintenance the world's most finely tuned and localized distribution and retail system. Drawing on ethnographic fieldwork and participant observation as a convenience store clerk, I expose the human dimensions of store waste and the significance of leftover and expired consumables in the functioning of and changes within the "convenience" economy.
---
Wesleyan University, College of East Asian Studies Lecture (2017)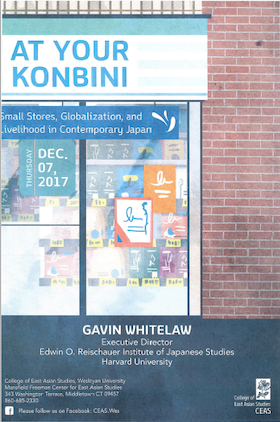 "At Your Konbini: Small Stores, Globalization, and Livelihood in Contemporary Japan"
In Japan, the convenience store, or konbini, sets the standard for fast mass customer service and "localized" global retail. Formally introduced to the island nation in the 1970s, the American convenience store franchise model and associated distribution system have restructured Japanese retail, transforming the neighborhood corner shop into a competitive commercial force with global ties and mass appeal. This lecture examines the ways this everyday place offers new perspectives on the study of Japan and globalization.